Testimonials
Horses have fears, but no voice to express them! They trust us like children to make wise choices for them!
A choice made during their next bout of Colic can mean they LIVE or DIE!
I used your product on my mare last night who was colicing and it seemed to work great.
Tracy W
Arizona
---
My neighbor, Gail, called and her older horse is having a bout of colic, the other neighbor, Lydia told her I had ECR. She came and got a bottle. I went over with my stethoscope to help check for gut sounds. When I got there they had just given her the ECR and at that time there was no gut sound. I stayed for about 1 1/2 hours. Gut sound was coming back and the mare seemed to be feeling okay. I went back the next morning, they were still concerned and were going to take her to Flagstaff for observation. Her husband got the trailer ready to go and by noon Gail decided her mare was okay. Gail got another bottle to have on hand.
---
Saturday night I got a call from my neighbor Vicki, her mare, Scarlett, had colic. I took a bottle of ECR over. When I got there this mare had colic REAL bad. She was cramping and trying to drop and roll consistently. We gave her the bottle right away and I checked for gut sound, NONE. We kept her moving and up, sometimes it was hard, she really wanted to lie down and roll. The last time I saw a horse in this much pain was mine and she did not make it (that was before I got ECR). In about 30 minutes we could hear gut sound on one side, but not the other. After about three hours gut sound was returning good on one side, not so good on the other and she still seemed to be in a lot of pain, so against the ECR instructions we administered banamine also. Within an hour she was feeling much better. So I went home and returned the next morning. I know banamine does not solve the problem, only mask it. The next morning she still wanted to lie down and roll although she was not in near the pain she was in at first and not violently rolling. Gut sound was real good on one side and pretty good on the other side. We administered a second bottle of ECR and later that day she was have nice big and wet manure piles with great gut sound on both sides. I know in my heart that ECR SAVED THIS HORSE. I am grateful that I was able to help my neighbor just like many of my clients do for their neighbors. Nobody wants to lose their beloved horse, which is truly heartbreaking.
---
Billie, thank you again for your help last night in locating a bottle of ECR for my gelding, Trofeo. Susan and Ken were wonderful and supportive by meeting my husband halfway so we could save time in administering this to a very sick horse. The one vet that returned my frantic call was more than an hour away from us, and we were not sure we could make it out of our long drive and road with our large trailer and all the mud created by 3 consecutive snow storms a week ago. After talking to you this morning, I know you face the same problems living in a remote location with horses can create when needing immediate vet care. I had seen the ad for ECR in the local horse publication and considered ordering….. but really wanted to hear how it worked from someone I knew. I didn't realize that person would be myself! Trofeo started exhibiting symptoms around 4:30pm that afternoon when he was put in the barn for the night and showed no interest in his hay. After finding him flat out on his side and still no interest when offered a bran mash (his favorite) I knew we had colic. Light exercise had no effect either and at that point I was taking his temperature, vital signs, listening for gut sounds, checking gums and capillary refill. The vet that did return my call recommended taking him to the valley with the symptoms he was displaying. Almost exactly one hour after Trofeo received ECR he passed manure and continued to do so throughout the night. I was on 'poop patrol' until this morning, but I have a horse that is acting his ornery self again. I have already put out the word to the vet I spoke to last night (she took your phone # and email address) and a large horse group in the valley. I will also speak to the local feed stores and try to convince them by my personal experience with ECR to keep it on hand for their clientele. When you compare farm call fees, vet care, and transportation to a nearby clinic…..in our case a 2-3 hour trip, the cost of ECR is well worth the peace of mind knowing you can help your horse immediately instead of waiting hours for an available vet. Please add my name to your list of contacts here if someone else needs help!
Scarlett & Trofeo
---
Hi I just wanted to thank you for this amazing product. Our horse PJ who is the love of our life is still alive thanks to Equine Colic Relief. It is a Sunday I live in a small Mormon town so of course no vet open especially on Sunday, I had purchased this product to have on hand in case of a situation like this. We went out to feed on a Sunday morning and he was laying down well no big deal then gave him his food and he just pawed it and laid down again. He had no gut sounds on either side. We administered the Equine Colic Relief and within 30 minutes he had gut sounds on both sides and within 60 minutes he had a normal bowel movement and wanted his hay. I am very grateful because this member of our family means the world to us.
PJ and the Baldwin Family
---
4-H Coconino County Horse Fair — Rock, nine year old gelding got colic at around 12:30 pm. Adjabah had just rode him and put Rock back in his stall. She went to check on him and he was sweating and trying to drop and roll. They call me, Billie, horse project leader, and sure enough Rock has a bout of colic. We administered Equine Colic Relief and the 4-H members took turns walking Rock to keep him from rolling and in two hours Rock was over his bout of colic. Adjabah rode Rock in barrels, poles, and goat tying just 2 1/2 hours after his bout of colic had started and ended.
Adjabah
---
My gelding, Smokie, got colic early in the morning. After getting a bottle of Equine Colic Relief and stopping the bout of colic, I was able to take an afternoon ride with my guests who were here for the holidays.
Brooke W
---
Over the summer I administered six bottles to six different horses in my neighborhood. All horses survived their bouts of colic. One horse had been down for several hours before I arrived. I was not sure the product would work, but administered it anyway. To my surprise the horse got up in 30 minutes and started eating and survived the bout of colic. Six horses in the neighborhood SAVED!!
Dell T
---
I have multiple horses that were helped by Equine Colic Relief. It's my FIRST go to defense. We all know that colic is usually from environmental changes...too hot...too cold...too wet...not enough fluid intakes...nerves...etc. I have 7 horses. One of my horses does have ulcers and he is prone to get more colicky than the others. His name is Micah. He is 18 years old and I have had him since Birth! He drives and rides and is my right hand man! So to speak. I give lessons and I also have a professional Carriage business that is really more of a hobby.
Thanks for the Equine Colic Relief!! I would not be without it!
Marianne I
---
We are true believers in your product . It has successfully relieved multiple colic episodes over the years in our barn . It is the first thing we go to at the sign of colic. We keep two bottles on hand "because you never know". Thank you so very much. Our beloved "Highover Oaklyn Starfire" aka "Fish" who should be your poster child.
Thank You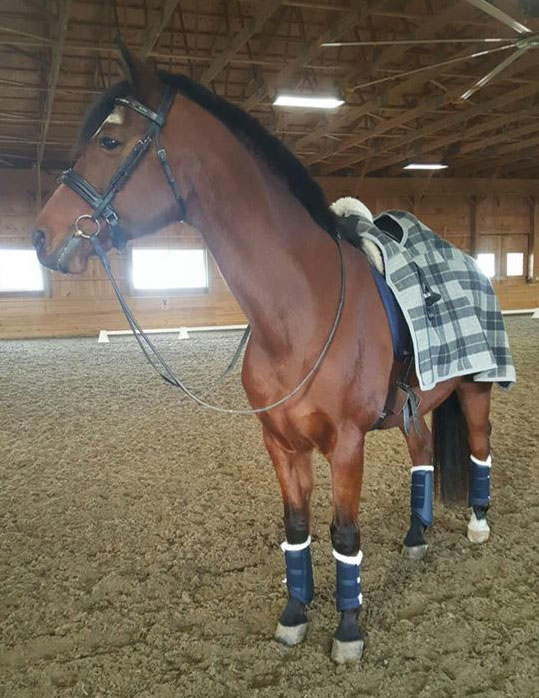 ---
Last Saturday, August 15th, I called you regarding my horse showing signs of colic. Years ago my husband bought a bottle of Equine Colic Relief, batch 8/25/2008. I called you to see if I could still use it. I gave it to my horse "Chief" at 8 AM, he had minimal bowel sounds, was trying to roll on the ground several times, would not eat or drink. At 4:45 PM he urinated and moved his bowels with fairly good bowel sounds and the next day he had good bowel sounds and was given Bermuda hay. Thank you for making such a great product. It saved me hundreds of dollars in vet bills. I highly recommend this product and will let my equine friends know about it.
Joan B.
Arizona
---
I just wanted to say THANK YOU! I ordered a bottle of this a few years back through ACTHA & have always kept it in my emergency bag. Yesterday it saved my horses life! I found her with a severe case of colic yesterday morning. She has had a few cases of mild colic over the years but I've never seen her in so much pain before. Trailering her to the vet was not an option because I was fighting to keep her standing every 30 seconds or so. I gave her the bottle of Equine Colic Relief & within minutes, she was able to pass a large amount of loose stool & relieve the gas bloating causing her so much pain. Within an hour, she was back to normal & started grazing/drinking water again with no pharmaceutical intervention. It was nothing short of a miracle & she is happy, healthy & content even 24 hours later. I am immediately replacing the bottle. Thank you so much for making this product!! Everyone with a horse should have this!!
Jaimie B
Florida
---
Another success, thanks ECR! I love this product.
Suzie L
California
---
I've been using and trusting Equine Colic Relief for years; I never have less than 1 bottle in my barn repertoire. Again, I'm here to reorder. Yesterday, I came home and found my big beautiful mare having a tummy ache. I gave her the Equine Colic Relief, watched her and within the 45 minutes she was back to normal. I have never (crossed my fingers) had Equine Colic Relief fail me. I've used it on my minis. The stuff works, and the equines love the taste
Tracy B
Arizona
---
My experience with Equine Colic Relief has been, in the face of colic episodes, a calming support to me.
The first 2 times I used it, and having noticed this particular horse uncomfortable almost immediately, stopped the colic - and more grey hair.
The next time my neighbor had a mare that ended up with sand colic and spent 2 weeks at the vet. But that first day when we caught it Equine Colic Relief seemed to keep the pain at bay as we walked her all day.
I am very nervous to be without Equine Colic Relief anymore because a vet can never materialize fast enough. And when Billie and I missed connections the first time she called me back - which you RARELY experience any more. So, I am thankful to have her representation too!
Holly E.
Washington
---
Our 24-year-old mare returned home one morning recently after a trail ride, appearing normal, and drank a lot of water. Then later in the day I found her (turned out) acting strange, circling and attempting to lie down. I led her to the barn where she nibbled on some hay then went down. No gut sounds. I got her up, I administered ECR, walked her around, and within 45 minutes she seemed calm and comfortable. The next day my vet was coming for fall vaccinations, checked her and she seemed perfectly fine. I held off giving her the vaccine for a week just in case. I ordered some more ECR to have on hand, it will help me sleep easier I'm sure!
Virginia V.
Arizona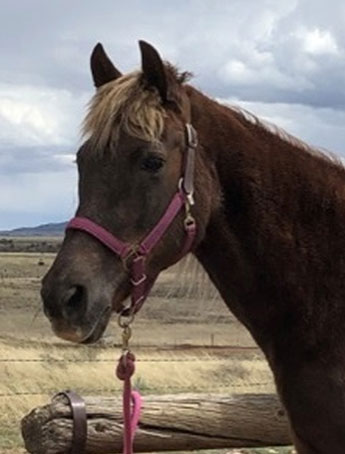 ---
My horse started to colic on the evening of 08/28/2019 at a trail ride, a friend had your product on hand and within an hour of giving the Equine Colic Relief to him his colic symptoms subsided and he was good to go. So, I thought I had better order to keep on hand myself, thanks for a great product!!
Patti K
Missouri
---
On Christmas Day 2018 we were having a typical Christmas, when we saw in the pasture that my daughters' horse was down in the pasture. When we got to her she was down sweating and kicking her stomach. We were able to get her on her feet and get her walking to the corral. By the time we has gotten to the corral my wife had the ECR waiting for me. We administered the Equine Colic Relief and within two hours and some walking she was eating and drinking. This is the second horse that I feel that ECR has saved on my place. I always have at least one dose of ECR available at all times. Thank you, Billie, and ECR for saving my daughters horse and making our Christmas a happy one.
Kelly W
Nebraska
---
My Friesian had a run with colic last night and once again ECR pulled him out. Every horse owner must have this on hand at all times. Banamine does not draw moisture to the gut. This stuff does. My girlfriend saved her mare with multiple doses over a week when vets misdiagnosed compaction colic. In about 20 minutes my Friesian was feeling better and he is doing good this morning. Thank you Billie Streelman
Lisa D
Colorado
---
We have had 4 horses colic over that last 30 years. And a friend gave us a dose of ECR and we saved the last horse. We attribute it to your product. Thank you
Debbie T
Arizona
---
I am a Professional Farrier in the White Mountains of Arizona . I cover most of the state serving my clients . I have heard stories from a few of them on how ECR has saved their horses from colic troubles . Recently on of my personal horses was having trouble for a couple days . Shots of Banamine would give him relief temporally but the symptoms kept coming back ! So as a last ditch effort I called a client Ken and Suzy who I knew had ECR ! I dropped by got the bottle on the way home and gave it to my gelding . Within hour he was making louder gut sounds and feeling and looking better . In two hours he was back at his feeder eating what he didn't eat from that morning ! I am ordering a replacement bottle for Ken and Suzy and one for myself to have on hand .
Cliff P
Arizona
---
Had a horse colic this morning and used bottle of ECR and within 10 min. could see big difference. So happy with product we live 50 miles from vet and by time he got here with other horses that had colic it was too late, so this is great. THANKS
Doris B
California
---
I have had ECR for years and never needed to use it until now. I used ECR for the first time today! It's only been a few minutes, but I don't want to be without it! So I want to order 2 more.
Molly B
California
---
This medicine and prayer has saved my horse twice!
Elizabeth B
Tennessee
---
I went on a trail ride with a friend and we had a little trouble crossing a small stream of water with my horse, JR, we did a lot of circle and finally got him across. Shortly after that I kinda thought he did not feel right, but kept going. I finally stopped and got off and JR has a bout of colic going on. We are about three miles from home, I call hubby to come and get me and bring ECR. I had to ride him about a mile back to a dirt rode where we could get picked up. Hubby arrived, got him unsaddled, gave him the ECR, loaded him and took him home. Approximately three hours later he is finally feeling better and that evening he was fine. Again ECR helped save JR from colic. I think it was a weather change, we were warm, temps dropped about 20-25 degrees for two days and that is when he got colic.
Billie
---
I bought some of this a year or so ago to have on hand. One of my senior mares got colic one morning. My regular vet recently passed away and after calling several, no one could come out (about 30 miles from town). Then I remembered the Equine Colic Relief. The mare wasn't real bad but uncomfortable and getting up and down. I gave her the ECR and within about 20 minutes she was up and looking for something to eat again. Very impressed with this product and bought more
Peggy G
---
Kristi, manager of Olsen's Grain in Flagstaff AZ reports back that customers are telling them ECR saved their horses. In January 2009, an Olsen's Grain customer was able to contact the store manager on a Sunday and get a bottle of ECR and save his horse. The customer not only was gratefully that he was able to save his horse, but also save $$$ by not having an emergency vet call.
Kristi
---
I board a few horses and when I was doing the evening feeding, a mare, Dusty, who is a very good eater, came to the trough like she was going to eat when I threw the hay. Went on to feed other horses, came back and Dusty was laying down by her feeder. Administer ECR and in two hours, Dusty was back to normal. Again we had this weather change from warm to cold. Possible?? Again God Bless ECR. Dusty is doing fine.
Billie
---